| | |
| --- | --- |
| | Carl Sagan: A Life |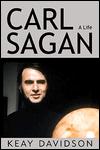 Carl Sagan: A Life
Keay Davidson
Format: Hardcover, 1st ed., 512pp.
ISBN: 0471252867
Publisher: Wiley, John & Sons, Incorporated
Pub. Date: September 1999
ABOUT THE BOOK
Annotation
"Carl Sagan was more than just a scientist. He was a public figure and a personality. Keay Davidson has produced a thoughtful, intimate portrait of the man behind the TV image." --Lawrence M. Krauss, author of The Physics of Star Trek
Carl Sagan was one of the greatest scientists of this century--the handsome and alluring visionary who inspired a generation to look to the heavens and beyond. His life was both an intellectual feast and an emotional rollercoaster. Whether he was seeking life on Mars or visiting Timothy Leary in prison, searching for radio messages from distant space or protesting nuclear weapons, prophesying some of the most exciting discoveries of modern science, filming the most successful PBS series of all time, or turning down invitations to dine at the Reagan White House, Sagan was always fascinating--an enthralling, complex, contradictory prophet of the Space Age.
Based on interviews with Sagan's family and friends, including his widow, Ann Druyan, his first wife, acclaimed scientist Lynn Margulis, and his three sons, as well as exclusive access to many personal papers, this captivating life story offers remarkable insight into one of the most influential, provocative, and beloved figures of our time.
Keay Davidson (San Francisco, CA) is the chief science reporter for the San Francisco Examiner and has written feature articles for National Geographic and New Scientist. He also was the coauthor of the acclaimed book Wrinkles in Time with George Smoot.
From The Publisher
"Carl Sagan was one of the most celebrated scientists of his time - the leading visionary of the Space Age. He was also a highly controversial figure who inspired wildly opposed opinions. His enthusiasm and eloquence about the wonders of space, the marvels of the human brain, and the mysteries of life captured the imagination of millions. Yet one scientist was so enraged by Sagan's scientific pronouncements that he compared him to the Black Plague, and William F. Buckley, Jr. likened him to circus huckster P. T. Barnum."--BOOK JACKET. "Sagan's life was both an intellectual feast and an emotional roller coaster. Whether he was searching for life on Mars or visiting Timothy Leary in prison, prophesying exciting scientific discoveries or getting arrested for protesting nuclear weapons, debating the existence of UFOs or advocating the creative benefits of smoking marijuana, Carl Sagan was a fascinating, charismatic, and complex man full of contradictions."--BOOK JACKET. "His TV series Cosmos awed hundreds of millions around the world, and his bestseller The Dragons of Eden won the Pulitzer Prize.
Yet the value of his scientific work was often called into question. His Ph.D. dissertation narrowly escaped rejection, he was denied tenure at Harvard, and in the twilight of his life, he was denied membership in the prestigious National Academy of Sciences."--BOOK JACKET. "In this insightful and evenhanded biography, science journalist Keay Davidson reveals for the first time the man behind the famous image - the storm of contradictions and passions that animated this enigmatic and entrancing man who remained, at heart, the five-year-old Brooklyn boy who looked up at the stars and asked: What are they?"--BOOK JACKET.
Reviews
From Philip Morrison - Scientific American
Davidson, a San Francisco writer, is a skeptic to the claims of science and acts as a keen critic to Sagan's works and their vast uncertainties. Commonplaces those science skeptics accept without examination are often flawed more than the imperfectly tested tentatives of science.
From Library Journal
Both of these books portray astronomer Carl Sagan as a man of immense paradoxes. A charismatic public persona, he could be arrogant and demanding in his personal life. Fiercely amibitious, he still had a powerful sense of civic duty. An outspoken defender of scientific methods, he was also a UFO enthusiast and obsessed with the possibility of extraterrestrial life. In some ways, each of these books represents a different side of the man. First, the similarities. Both authors are respected science popularizers. Both books are quite substantial, relying to a large degree on interviews with those who knew Sagan. Thus, there is considerable overlap between them--perhaps as much as 80 percent. Of the remaining, about 15 percent of Poundstone is totally unique material. His is the more exhaustive and detailed account, especially when discussing Sagan's original scientific work and influences. What Davidson may lack comparatively in content is more than made up for in style, though. While Poundstone plods in places, Davidson is lively, literary, and sometimes refreshingly speculative. Poundstone's version comes closer to being definitive and will probably have a longer shelf life, but Davidson's is more fun to read. Overall, Davidson's version seems truer to its subject, for with Sagan science and showmanship were inseparable. Let's split the difference and suggest that Poundstone's version is more appropriate for academic libraries, while Davidson's may find a larger audience in public libraries.--Gregg Sapp, Univ. of Miami Lib., Coral Gables Copyright 1999 Cahners Business Information.
---
Be sure to visit the Base Bookstore, an affiliate of