| | |
| --- | --- |
| | The Elegant Universe |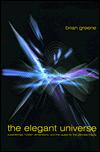 The Elegant Universe: Superstrings, Hidden Dimensions, and the Quest for the Ultimate Theory
by Brian R. Greene
Format: Hardcover, 448pp.
ISBN: 0393046885
Publisher: Norton,Ww
Pub. Date: February 1999
ABOUT THE BOOK
Synopsis
In an effort to reconcile the naggingly incompatible worlds of quantum mechanics and general relativity, Brian Greene explores and explains superstring theory, which holds the promise of applying to all matter in all conditions.
Description from The Reader's Catalog
Scientists have long been searching for the one theory that explains everything in the universe from subatomic quarks to heavenly galaxies. Physicist Greene presents some of the problems that bedevil that quest and the ongoing struggle to overcome them
From The Publisher
In this refreshingly clear book, Brian Greene, a leading string theorist, relates the scientific story and the human struggle behind the search for the ultimate theory. String theory, as the author vividly describes, reveals a vision of the universe that is sending shock waves through the world of physics. Thrilling and revolutionary ideas such as new dimensions hidden within the fabric of space, black holes transmuting into elementary particles, rips and punctures in the space-time continuum, gigantic universes interchangeable with minuscule ones, and a wealth of others are playing a pivotal role as physicists use string theory to grapple with some of the deepest questions of the ages. With authority and grace, The Elegant Universe introduces us to the discoveries and the remaining mysteries, the exhilaration and the frustrations of those who relentlessly probe the ultimate nature of space, time, and matter.
Reviews
From George Johnson - The New York Times Book Review
Greene...explor[es] the ideas and recent developments with a depth and clarity I wouldn't have thought possible. He has a rare ability to explain even the most evanescent ideas in a way that gives at least the illusion of understnding. He developes one fresh new insight after another....In the great tradition of physicists writing for the masses, The Elegant Universe sets a standard that will be hard to beat.
From Chris Quigg - Scientific American
Beautifully told...The Elegant Universe presents the ideas and aspirations — and some of the characters — of string theory with clarity and charm...a thoughtful and important book.
---
Be sure to visit the Base Bookstore, an affiliate of